Development and implementation of performance management processes
Does this sound familiar?
In the last weeks Ana has stayed in the office after working hours to meet the given deadline for the project. To reward her additional engagement you have planned to talk to her tomorrow and give her an "extra" reward.
The next day you arrive at work and open an e-mail that required instant action. The same happens the following day...
After a couple of days, you realized that you did not have that planned talk with Ana ... And at the office already circles a story of how the hard work of employees at your department always remains unnoticed ...
With almost free rewards, managers can enjoy the benefits of more productive teams. What is even more surprising is that most employees aspire to just these kinds of rewards!
What is achieved through the performance management system?
clear standards of work efficiency and quality of work
clearly defined roles, objectives and expectations
monitoring of realized goals and possibility for improvement
making decisions on rewarding based on objective and defined criteria
encouraging development (differences between the desired and the current level of knowledge and competencies)
recognition of employees of higher development potential
improving the efficiency of the whole company and realisation of business goals
When setting up a model, we recommend the following steps:
Preparation of a proposal of the model - covers the job position analysis and the creation of profiles for each job position: description of work tasks and responsibilities, and required knowledge and competencies.
Proposal and definition of model elements::

Work efficiency monitoring model

what is monitored – success criteria of a specific workplace (choice of goals and/or competencies)
who monitors – involvement of individual employees in the assessment process
when monitoring takes place – defining situations in which work efficiency assessment is being implemented and frequency of assessment / interviews during the year

Model of rewarding

emphasis on development and/or financial rewarding
individual and/or team rewarding
additional benefits

Preparation for implementation is a very often neglected step in the development of a new performance management system. Without communication of the system to all employees, manager training for monitoring the work efficiency of employees as well as a required additional documentation, it is unlikely that the new system shall be effective and give added value to the company.
... for those who wish to know more...
In order for us to systematically, objectively and efficiently answer the questions "Who to reward?", "Who is ready for a promotion?", and "Who needs additional development of competencies?", we urgently need a performance management system.
Monitoring the work efficiency of employees' presents a continuous process based on continued communication with the aim of improving performance. It allows managing the realization of business goals of individuals, teams and the company itself.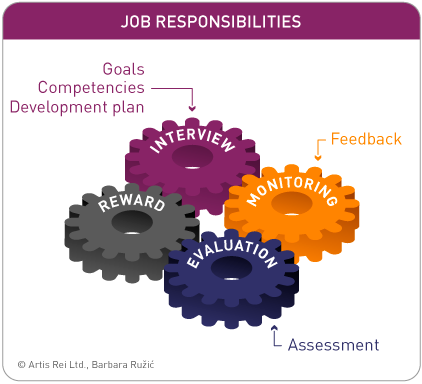 Performance monitoring includes defining the success criteria of each employee or team, daily monitoring of performance, assessment in given cycles, feedback on performance and results, and reward.
Defining the success criteria of each employee or team implies agreement on and definition of goals that must be achieved in a following time period. Together with the goals, also defined are competencies necessary for a successful performing of work tasks at a specific job position. In this way we get answers to "how much" the employee has achieved (goals) and "how" this was achieved (competencies).
The daily monitoring of work is an unavoidable element of an efficient system. It implies, for instance: work orientation, continuous providing of feedback on good and/or poorly performed activities...
Assessing employees on previously defined criteria (goals and competencies) is usually done once or twice a year. Besides the results achieved, an annual review also implies an overview of the realized development activities.
Depending on the results of assessment an employee may receive some of the following rewards: an increase in salary, a bonus, a promotion to a more demanding work position, additional education, additional benefits...